Buying an Investment Property?
For most people a second property is usually an investment property. Once the EMI for the first property is fully paid up or when additional income becomes available, people would start shopping for their second property. Just be aware that as with any investment, past performance is not an indicator for future performance in real estate as well.
Common mistakes when choosing your investment property..
The criteria used for the first home-buy greatly influences the second buy (both positive and negative influences). For example, if you had bought a first home in the city, you might want a second property tucked away from the hustle of the city. You now look for a suburban property which is in a quiet neighbourhood – and choose a property that meets your (self-occupation) criteria. The often forgotten objective at the time of choosing this property is that this is an investment property and not meant for self-occupation. So, when choosing your investment property you need to keep in mind your potential buyer's criteria (and not yours). This ensures that your investment is attractive to a potential buyer 5 years or 10 years down the line when you actually sell it. In this way, your property could be sold within a short timespan to the right target segment. Otherwise you would end up with a prolonged sales cycle and this could translate into lost opportunity cost.
Financial checklist for your investment property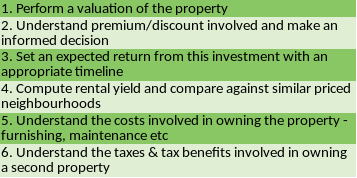 The Financial planner advantage While property forms a main component of your investment portfolio remember it is not your only investment. Property is part of your overall investment planning. For people in the younger age group (<40 years age), property could make up to 70-80% of their portfolio, leaving very little to meet their other life-goals. Consulting a financial planner could help address the below issues: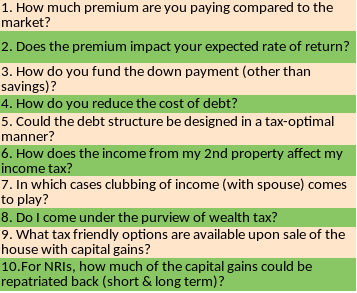 It is also important not to undermine the risks of investing in real estate – it is not a liquifiable asset (not easily sell-able) during economic downturns and there may be periods in which it may not provide rental returns. There have been downturn periods even in the recent 10-20 years where real estate prices have receded and not offered investors with the expected return. Careful planning of your investments and striking a balance between real estate and other assets is critical in ensuring all your financial goals are well attended during your income earning phase. Depriving some of the goals and going overweight on one asset class would be akin to putting all eggs under one nest.