Buying your first home is very special as it makes you the proud owner of an asset that is considered SECURE by one and all. These days plenty of options are available to a home buyer to choose his dream home. Some prefer to choose their home in the heart of the city and look for new apartments or resale flats that are in close proximity to best schools and hospitals. A younger generation of buyers might choose to live in the suburbs as it offers modern comforts such as swimming pool, gym and a shorter commute to their work in a suburban IT/business park. There are also other buyers who are interested in custom building their home (villa-style). These buyers would buy a plot and build their home to suit their specific lifestyles.
Plan your finances right!
Regardless of your choice of home, it is very important to plan your finances ahead of the purchase. Some of the basic steps involved in planning are determining the monthly cashflow available to pay as EMI (Equated Monthly Installments) and arriving at a reasonable loan amount and tenure. Typical loan amount availed is 80% of the purchase price, although this could be varied to suit the risk appetite and risk attitude of the home buyer. A complete breakdown of the cost involved and payment plan needs to be obtained in case of a builder marketed property. Aside performing legal verification of documents, it is also imperative to check on all the extra/hidden charges involved such as car park cost, registration & stamp duty, recurring maintenance fees and so on.
How could a Financial Planner add value?
Although an individual would be able to work out the basic math using inputs from family and friends, consulting a Financial planner would bring significant benefits in terms of overall cost savings to the home buyer. Some of the issues facing a home buyer today are: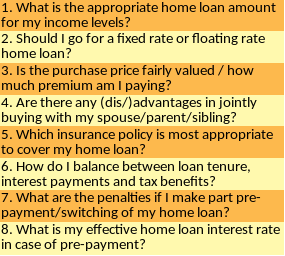 A financial planner would be able to address the above issues and provide guidance in structuring your home loan in a cost-efficient and tax-optimized manner for the entire tenure of the home loan. In the event of rising incomes in subsequent years, the planner would also be able to best advise whether to foreclose the current loan and/or to commence investment in other assets.