Know your Mutual Fund Categories..
In 2017-18, SEBI mandated all Mutual Fund companies to re-categorize their funds into well-defined scheme holdings as defined by the regulator. As a result, fund houses had to align funds with respect to their holdings, change fund names, returns, benchmarks or even mergers with other funds. These changes are as a result of SEBI's constant endeavor to make the fund selection process investor-friendly.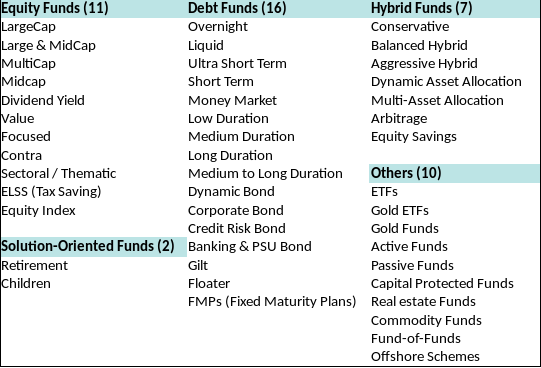 Background
Today India has about 20+ fund houses and 3000+ schemes, often carrying names that do not reflect the underlying fund characteristic. This presents great challenge to a retail investor to navigate the ocean of schemes & identify the right funds for him/her. To simplify this process, SEBI in Oct 2017, mandated that all fund houses must categorize their schemes under 5 broad schemes
1. Equity
2. Debt
3. Hybrid (Equity+Debt)
4. Solution-oriented (Retirement, Children's fund)
5. Others (Fund of Funds, Sector/Thematic & Index Funds)
The most useful change by SEBI is allowing only ONE fund under each category by a fund house. This means a fund house having 6 different multi-cap funds would have to merge all 6 under 1 fund and have to name it right to reflect this category.
Sub-Categorization
However, under each of the 5 broad categories of funds, sub-categorization has been permitted as below:
1. Equity – 11 (Large-cap, Mid-Cap, Small-cap, Value Fund etc)
2. Debt – 16 (Short Duration, Credit Risk Fund, Dynamic Bond etc)
3. Hybrid (Equity+Debt) – 7 (Balanced, Balanced Advantage, Arbitrage, Equity Savings etc)
4. Solution-oriented – 2 (Retirement, Children's fund)
5. Others – 10 (Fund of Funds, Index Funds etc)
The re-categorization drill largely benefits retail investors as they could effectively perform a portfolio review with their investment advisors and consolidate / re-align their portfolios to their long term goals.